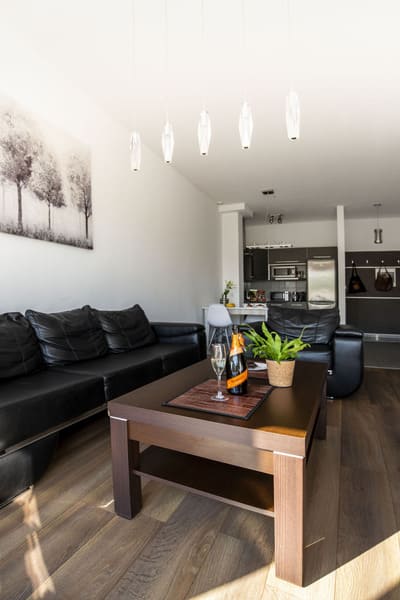 UNIT No. 1
Lake Apartment
Welcome to Lake Apartment, where you can have a good rest, recharge your batteries in peace and quiet or overnight in comfort when on a business trip. If hustle and bustle is not your thing and you prefer to wake up with nature just outside the window and listen to birds singing while enjoying a morning coffee on the terrace, you have come to the right place.
The apartment in Brodnica at ulica Wczasowa 6 is located by the Niskie Brodno lake, on the Zielone Wzgórze (Green Hill) estate, whose name does justice to its location as it is surrounded by greenery. The terrace has a lake view and there is a playground, a beach, an outdoor gym and a restaurant nearby.
Facilities
The apartment has all the facilities necessary for a comfortable stay – a fully equipped kitchen (microwave oven, coffee machine, oven, dishwasher, fridge with freezer compartment), a bathroom (washing machine, hairdryer, iron), a living room with a sofa, Wi-Fi, a large TV with Netflix, garden furniture on the terrace, which will make your stay comfortable and trouble-free.
The bedroom has a double bed, a comfortable rocking chair perfect for reading and atmospheric bedside lights.
Nearby attractions
The Brodnica lakeland is a beautiful though less known region of Poland. It is well worth visiting while its charms can still be enjoyed in peace and quiet. Its salient features are an abundance of lakes (101) of varied human presence (you can choose between a guarded beach or a secluded spot where you will be all alone), beautiful woods with mushrooms and forest fruits, Brodnica Landscape Park and Natura 2000 areas can give you an opportunity to peek at the wildlife in its natural habitat. The marshland of the Drwęca valley is unique home to birds: swans, cranes, wild geese, and many more. The region is also a kayaker's paradise – the Drwęca river or the countless interconnected lakes will guarantee an unforgettable experience among unspoilt nature, while the river Wel offers attractions and emotions not unlike those of mountain whitewater routes. The Brodnica area has recently seen a considerable expansion of cycle tracks, perfect for exploring the countryside. Healthy food enthusiasts can buy some at the nearby village of Pokrzydowo from a pioneer of eco-farming, Mieczysław Babalski. Those into history might be interested in the story of the princess Anna Vasa of Sweden, the triangular town square, the remnants of the castle, archaeological finds, and visit the ruins of the Kurzętnik castle.
Fully equipped kitchen
microwave oven, coffee machine, oven, dishwasher, fridge with freezer compartment
Spacious terrace
garden furniture to make your stay comfortable and peaceful
Fully equipped bathroom
washing machine, hairdryer, iron
Comfortable living room
sofa, Wi-Fi, large TV with Netflix
Cosy bedroom
double bed, comfortable rocking chair, perfect for reading and bedside lights
Free Wi-Fi
wireless internet connectivity
Playground and playfield nearby
Lake Apartment
ul. Wczasowa 6
Brodnica
Phone +48 604 124 040
Send email →

Apartament nad jeziorem
ul. Wczasowa 6, Brodnica